When the Kansas City Chiefs and Philadelphia Eagles kick off Sunday in Super Bowl LVII, two former Marines will be taking in the spectacle together.
They don't share a rooting interest. John Gladwell, 44, has been a Chiefs fan ever since he moved to the city with his wife Randi. Billy Welsh, 39, is a south New Jersey native and diehard Eagles fan from birth.
They do, though, share a kidney.
Gladwell and Welsh's remarkable tale began when they met each other in the Marine Corps just after the turn of the century. Its most recent chapter is still being written this weekend after Eagles president Don Smolenski and Chiefs president Mark Donovan gifted them tickets and chartered flights to see their teams play on one of sports' grandest stages after learning of their inspiring story.
The two men were far from fast friends when they first met. Gladwell came from a military family and grew up all along the South. He was nearing the end of his enlistment and saw Welsh, full of northeastern flair and an energy to hit the ground running, as "annoying."
Welsh's first impression of Gladwell? "Dude, this guy is a jerk."
But culture shock is no match for the bond formed by military service.
"In any branch of the military you meet people from completely different backgrounds," Gladwell said this week in an interview with NFL.com. "Completely different areas of the country. The world, even. It didn't matter where he was from, how he talked or how annoying I thought he was. Or how mean he thought I was. We went through the same thing. I trusted him to have my back and he trusted me to have his. We were instantly brothers."
The time the two spent together in the Marines was brief — Gladwell remembers it as roughly six months. It was a brotherhood that would reunify them nearly 20 years later.
After Gladwell and Welsh went their separate ways, and upon the creation of Facebook, the two kept in touch intermittently. A like of a post here and a "happy birthday" there.
Then Welsh was diagnosed with an aggressive form of polycystic kidney disease, a disorder that causes the kidneys to enlarge and lose function over time. Welsh's kidney function levels continued dropping, and his doctor informed him they'd need to start looking for a transplant, so he took to social media in 2019.
"I put a little thing out on Facebook," Welsh said. " 'Hey, does anybody have a spare kidney I can get. The one I have is junk.'
"And John, he Rogered up."
Gladwell initially thought Welsh might be cracking a joke, but he reached out anyway to ask his blood type. They were each Type O Positive. Welsh sent Gladwell a link to the Jefferson Transplant Institute, which has a world-renowned kidney transplant program, to fill out his information and eventually undergo a litany of tests.
The results identified Gladwell and Welsh as a near-perfect match at 99%. The transplant was on.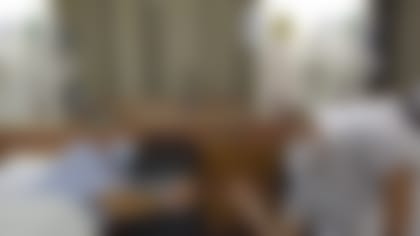 There was a plan in place to remove Gladwell's kidney in Kansas City, Missouri, and ship it to Jefferson Health's Nicoletti Kidney Transplant Center in Philadelphia for Welsh's half of the procedure, but logistics proved challenging. Plus, Welsh was on limited time.
"I message him, I was like, 'Hey, how's it going. How's the old kidneys hanging in?' " Gladwell told NFL.com this week. "He's like, 'Not good.' I think he said they're at like 10 or 12 percent. So I stopped talking to him at that point right then. I messaged my coordinator and said bring me to Philly. He's not doing great at all, and we got the process started to send me out to Philly in (October) 2020."
Welsh's father, Joe, picked Gladwell up from Philadelphia International Airport and took him back to his house. When Billy met him there it was the first time the men had seen each other in 20 years, but Gladwell noted they "started at each other like we'd never been away."
"I would say we picked up where we left off, but where we left off was a little rocky," Welsh said. "We picked up better than where we left off."
The reunited friends underwent the kidney transplant days later. It was a success — not only in saving Welsh's life but in cementing a lasting kinship with decade-long roots.
Gladwell went with Randi and their eldest grandson to visit Welsh again a year post-operation when the Chiefs and Eagles squared off at Lincoln Financial Field in Week 4 of 2021.
Perhaps the next time the families spent time together would've been Welsh paying back the favor by traveling to Kansas City for the scheduled Eagles-Chiefs game in 2023.
But the teams started on a collision course this past year.
"The beginning of the season, my wife, I don't know how she did it, she was like, 'I'm gonna laugh when the Chiefs play the Eagles in the Super Bowl,'" Gladwell said. "I was like that's never gonna happen. … Then both teams make the playoffs. I kind of look at my wife like what do you know that nobody else knows?"
Both the Eagles and the Chiefs ended the regular season with 14 wins and the No. 1 seed in their respective conference. Philadelphia outscored its opponents 69-14 in its next two postseason games, and Gladwell was at GEHA Field Arrowhead Stadium working his security job for the AFC Championship Game when Kansas City dispatched the Cincinnati Bengals.
"Toward the end of the season it was looking like it could be," Welsh said. "So we talked trash back and forth like, 'Yeah, yeah, whatever dude you ain't gonna make it.' And here we are. Both teams are in the dance."
And then Smolenski and Donovan came calling.
The Eagles president was packing luggage for the trip to Phoenix for Super Bowl LVII, scrolling through the Philadelphia Inquirer when he stumbled upon a Feb. 2 article on Gladwell and Welsh.
"As I went through the story, the connections sort of just kept building, right?" Smolenski told NFL.com this week. "The Eagles and the Chiefs are in the Super Bowl. These two gentlemen were Marines. One was in Kansas City, one's in Philly. One's an Eagles fan, one's a Chiefs fan. You know, donated a 99% match. What are the odds of that?
"And then in the article it referenced that John worked for the Chiefs in security, as well. So Mark (Donovan) and I, we've been friends and partners really for 20 years in the National Football League, and so it was sort of easy to put this together, like, 'We could do this.' I knew if I called Mark that Mark would say he's in. And that's exactly what happened."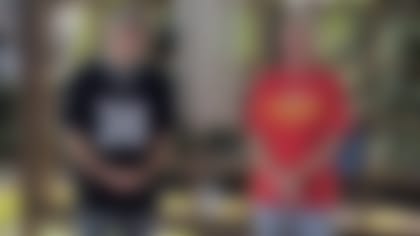 Smolenski and Donovan, who worked together in Philadelphia from 2003-09, then contacted the two former Marines on Feb. 5 to invite them to Super Bowl LVII with team-charted flights to Arizona and hotels included.
Welsh and his father Joe, a lifelong Eagles fan, will be seated at the game next to Gladwell and Randi, his partner and supporter throughout the process of donating his kidney.
Given the platform the NFL has to make a positive impact on people's lives, Smolenski said Gladwell and Welsh's journey was "calling" him to provide this opportunity.
Donovan echoed those sentiments on a Zoom call the two presidents held to officially invite their Super Bowl guests.
"It was the ultimate no-brainer that we had to have you two, not only out here, but also sitting next to each other for the game," Donovan told Gladwell and Welsh. "Credit to Don for sending it along, and then our teams were immediately — I'm sure the meetings were the same with Don and his team — but ours were, 'Like are you kidding? We gotta get 'em here!'"
The trash talk has admittedly been transpiring for months — and ramped up when both clubs became conference champions — but the arrival of Super Bowl weekend means the Gladwells and Welshes can carry on in person together, decked out in clashing jerseys of red and green.
"Once-in-a-million lifetime experience," Gladwell said of the weekend to come. "We are just gonna go and enjoy it. Whoever wins, they win. I'm related to Philly, he's related to Kansas City, so we're winners. No matter what. I got nothing but love for Billy, Joe, the Eagles. Everybody who's been involved. I don't think in a billion years I could ever thank everyone enough."
The love and gratitude is mutual from Welsh, but he also let something important be known.
"When John gave me the kidney, it was red and gold," he said before taking a pause. "But now it's green."
0
Mutlu
0
Üzgün
0
Sinirli
0
Şaşırmış
0
Virüslü
99-percent matchup: Eagles, Chiefs fans who share kidney bound for Super Bowl LVII